Ian Baird's story of success after Perispinal Etanercept Treatment following Stroke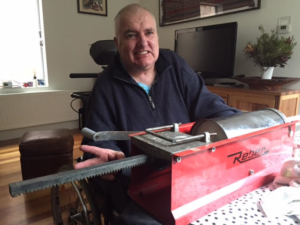 Ian Baird is a builder and farmer from Melbourne in Victoria. He is 50years of age, married and has two teenaged children.
In June 2015, aged 49, Ian suffered a 'catastrophic' bilateral cerebellar infarction. The exact cause is unknown though it was thought to be a blockage rather than a bleed.
It resulted in almost complete obliteration of the entire cerebellum. Ian spent two weeks in ICU where things were 'touch and go' followed by three months in acute neurology then five months in inpatient rehabilitation before finally coming home in February 2016.
Ian's long term deficits mainly relate to motor coordination and communication. Severe motor coordination meant he was unable to feed himself, shower or dress himself and he could only walk only a few steps using a frame and two people to steady him. In addition, swallowing was severely impaired with high risk of aspiration pneumonia.
Ian was able to speak a few words but rarely did, finding it very difficult and preferring to use hand signals to communicate his needs. Communication was frustrating with family and friends needing to repeat questions over and over to which Ian would sometimes respond after a time, and sometimes not at all.
After a lot of thought and investigation Ian travelled over to Miami, Florida in November 2016 in order to receive PSE at INR. The trip itself was a massive undertaking but to our surprise Ian travelled brilliantly and airline and hotel staff were fantastic. INR staff were wonderful and Ian received two treatments with one week between each.
Despite being very affected by jet lag we saw immediate improvement in Ian's motor coordination (fed himself the morning after treatment). On the trip home Ian was able to put his headphones on and off himself and choose his own movie by tapping on the plane's TV screen. On the way over this had to be done for him.
After coming home the main thing family and friends noticed was Ian's improved alertness. While still unable to speak more than a few words his quicker response times means a real time conversation is now possible. With motor function his writing and typing have improved which also supports better communication. He continues to feed himself and can now drink from a cup.
It is now three months since treatment and all improvements have been maintained and we would certainly consider accessing more treatment in future in the hope of further improvement.  (08.02.2017)
630 total views, 4 views today